Graduation is a momentous milestone, a time to applaud a graduate's achievements and hard work. What better way to express your joy and admiration than through the timeless gift of flowers? When selecting a bouquet for graduation, it's crucial to consider the individuality and tastes of the graduate. Here, we explore some popular choices and offer tips on making the perfect selection.
Blossoming Elegance: Flowers for the Graduate
Roses
Roses are the quintessential choice for graduation bouquets. With many colours, they can perfectly reflect the graduate's personality and your sentiments. Red roses convey love and admiration, and white roses symbolise new beginnings and purity; pink roses are ideal for female graduates, and yellow roses are a fitting choice for male graduates.
Lilies
Lilies exude sophistication and symbolise purity and innocence. While white lilies are a classic graduation bouquet, lilies come in various colours, including pink, yellow, and orange, allowing for a personalised touch.
Sunflowers
Radiating optimism and hope, sunflowers are a cheerful and bright option to celebrate graduation. Their resilience in hot weather makes them a practical choice. Their vibrant appearance mirrors the graduate's promising future.
Orchids
For a touch of luxury and opulence, orchids are an excellent choice. These exotic flowers are available in shades like white, pink, purple, and yellow. They capture the essence of abundance and extravagance, making them perfect for special occasions like graduation.
Tulips
Celebrating a graduation during springtime? Tulips are a symbol of fresh starts and new beginnings. Choose from various tulip colours, including white, pink, yellow, and red, to match the graduate's preferences.
Tailoring Your Selection
When picking a bouquet for graduation, it's not only about the choice of flowers but also the size and style of the arrangement. Smaller bouquets are portable and easy to manage, while larger ones make a grander statement. Commendations can be presented in a vase, basket, or hand-tied arrangements, each offering a unique charm.
Flower Bouquet Delivery
When circumstances prevent you from attending the graduation ceremony in person, sending a bouquet to the graduate is a heartfelt way to show your support. Various flower bouquet delivery services are available, offering convenience for you and the graduate.
When selecting a flower delivery service, consider the following factors:
Delivery Area
Ensure the flower delivery service operates in the area where the graduate is located.
Delivery Options
Some services offer same-day delivery, while others require advance orders. Choose the service that suits your delivery timeline.
Cost
Prices for flower delivery services can vary. Compare different services to find one that aligns with your budget.
Graduation Day and School Colors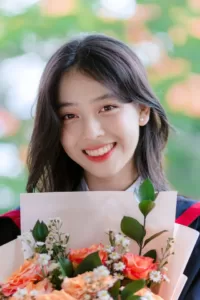 Convocation is a formal ceremony that signifies the culmination of an academic journey. Bouquets are a time-honoured gift for graduates on this special day.
When choosing a flower bouquet for convocation, remember to:
Consider School Colors
Many graduates choose to wear their school colours during convocation. Opt for a bouquet that matches these colours to create a coordinated and meaningful gift.
Assess the Graduate's Personality
The choice of flowers can also reflect the graduate's personality. A classic graduate might appreciate roses or lilies, while a more adventurous graduate could favour orchids or sunflowers.
Stick to Your Budget
With varying price ranges for bouquets, choose one that aligns with your budget while still expressing your best wishes.
Final Thoughts
Ultimately, the graduate will undoubtedly appreciate your thoughtful gesture, no matter the bouquet you choose. Flowers are a beautiful and meaningful way to celebrate this significant achievement. If you're ever uncertain about your selection, consult a florist and consider adding a personal touch through a heartfelt note or card. Graduation is a moment of pride and joy; a carefully selected bouquet can make it even more special.
Visited 1 times, 1 visit(s) today