Should I Get A Power Mixer?
What is a power mixer? It is a tabletop kitchen appliance used for processing ingredients for cooking. Power mixers can perform a variety of functions including mixing, kneading, mashing, and more. Here in this article, you can find out more about power mixer Malaysia.
Who should get a power mixer?
A power mixer functions when two motors are built into the chassé of the machine. It rotates the mixing attachments rapidly to mimic the action of mixing ingredients as you would by hand. If you bake frequently or prepare food that involves a lot of mixing, a power mixer is definitely a kitchen appliance you should get. For example, making whipped cream by hand can be lengthy and tiresome. A power mixer can dramatically reduce the amount of time to prepare certain ingredients that require mixing.
Pros & Cons of owning a power mixer
Is the power mixer a kitchen appliance for everyone? Although it may be a useful kitchen appliance for many, some disagree and find functional flaws. Here we will discuss the advantages and disadvantages of owning a power mixer in Malaysia.
Advantages
Most power mixers that you can get in Malaysia come with an anti-splash guard that can keep your kitchen space tidy while preparing food. This is a big advantage as kitchen spaces can get dirty when mixing ingredients. As mentioned earlier, having a power mixer is especially helpful for mixing ingredients that would be too lengthy to mix by hand.
Disadvantages
Cheap power mixers manufactured by brands might have poorer quality and have a higher chance of malfunctioning. This would require more time and effort spent repairing the power mixer. Another disadvantage of the power mixer is that it can be noisy when operating the machine. Some alternatives to noisy power mixers are handheld power mixers that you are able to have more mobility with.
Types of power mixer Malaysia
There are two types of power mixers that you can get in Malaysia, hand-held mixers and table-top mixers.
Hand-Held Power Mixers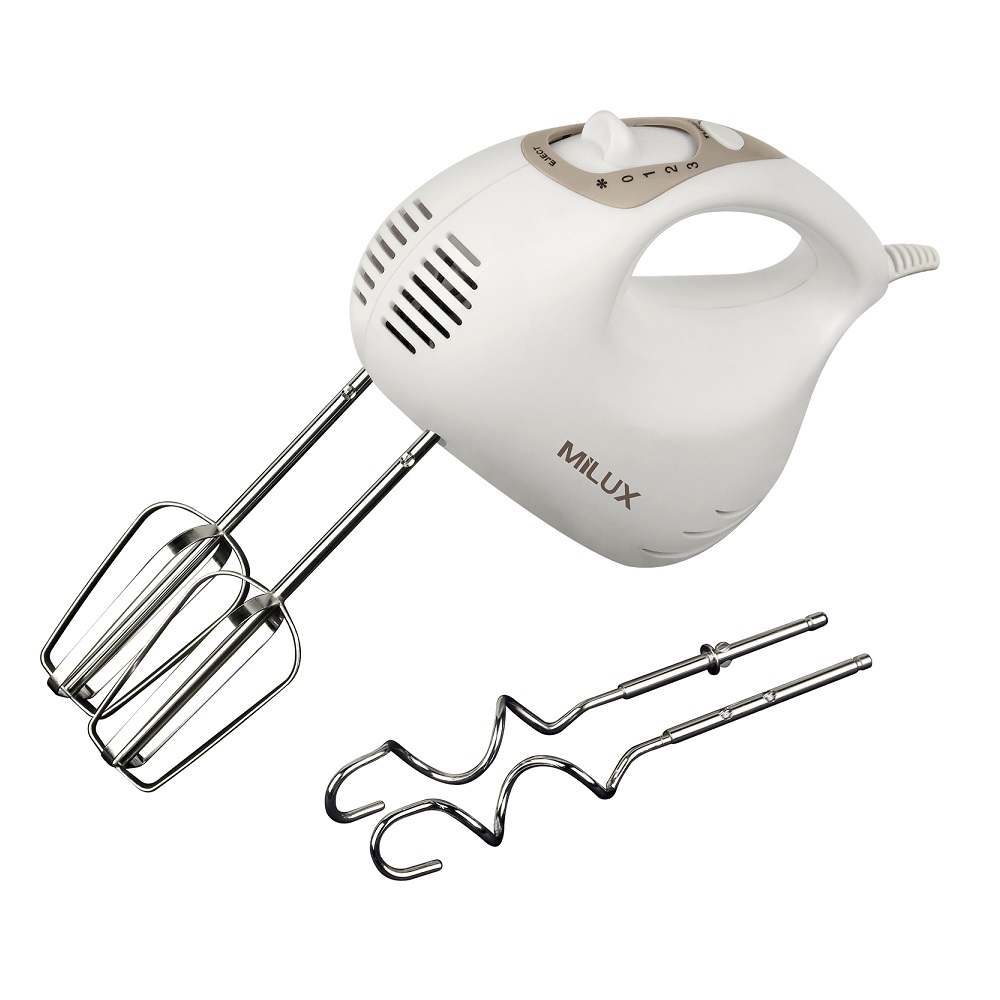 3-Speed Control + Turbo Function

200W power
Hand-held power mixers are a common variant of power mixers available. They are operated by holding the power mixer into the contents and mixing it. They come with different attachments meant for mixing different ingredients. This is a more common option for mixing ingredients that are smaller in batches and less tedious to mix.
Table-Top Power Mixers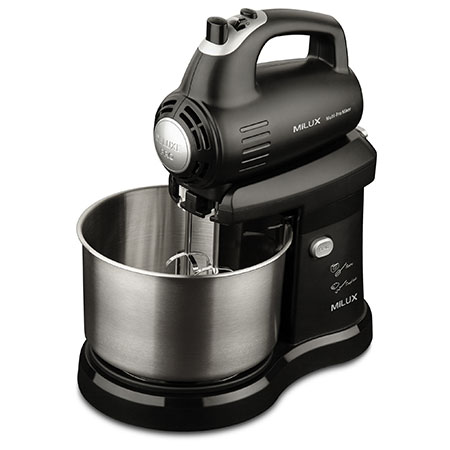 Detachable as Hand Mixer

5-Speed Control + Turbo Function

Detachable SUS304 Food Grade Stainless Steel Mixing Bowl

Stable Bottom-Drive

Left-Right Swing Head Function + Unique Mixing Plate for Perfect Results

Tilt-Back Locking Head for Easy Access to Mixture
Table-top power mixers are a more premium and convenient type of power mixer. They operate on a countertop and have a bowl attachment for easy mixing of ingredients. If you want your hands off and let the machine do its work, then this power mixer is the perfect appliance for your kitchen.
Conclusion
If you bake a lot and require more help when mixing ingredients, then you should highly consider getting a power mixer from big brands like Milux. Milux has a variety of kitchen appliances, including power mixers that you can get to meet your cooking needs.