A Hair Dryer Ionizer You Must Have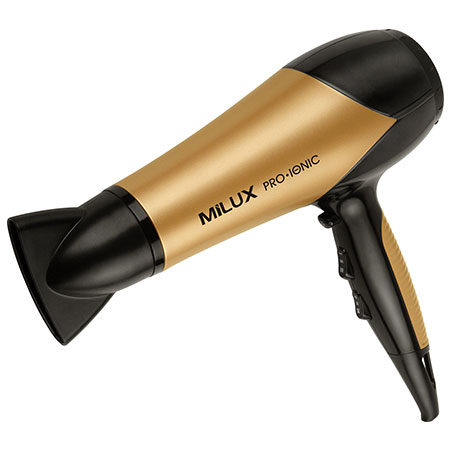 What is this hair dryer about?
Here is a hairdryer ionizer you really must-have. Now that the weather is changing, you might just need a new hairdryer. For super smooth, static-free hair, it's a must-have to give your hair the care that it deserves. This hair dryer is straight-up ionic technology and it is going to blow your mind!
So, how does the Pro-Ionic Hair Dryer work? Because of the ionic power of every Milux Pro-Ionic hairdryer, it neutralizes the statically charged particles. This allows air to pass through freely and dry your hair faster. This Pro-Ionic hairdryer by Milux comes with an Ionic System For Anti-Static and ultimately a better hair-drying experience.
Cleaning and maintaining your hairdryer is easy with this hairdryer. It comes with severable removable and detachable features to make cleaning and maintaining easy, such as a removable filter, detachable concentrator and detachable diffuser.
The Milux pro ionic Hair Dryer 3250 is lightweight, making it easy to use for a long period of time. It comes with a 3-Speed & Heating Selection With Cool Shot Function, giving you good control and a good quality hair drying result.
The Milux pro-ionic hairdryer has an automatic shut off safety feature. It shuts off by itself when it is not in use for 6 minutes. This is a product that you should highly consider when it comes to safety and applicability.
This hair dryer has a 3000mv Ionizer. Its ionizer increases the effectiveness to even the slightest growth of static build-up eliminates it during the drying process for a static-free hair dry.
If you are looking for a good hairdryer, then you choose one that ensures your hair is dry before you do any touch-up. The last thing that you want is your hair not ruined when you are getting ready for a big event. If this hair dryer ionizer is what you are looking for, browse more hair dryers from Milux and do not hesitate to contact us and inquire more about the product!